Can Art change the world? (revised and expanded edition)
Description
Entitled "Can Art change the world? (revised and expanded edition)", this book by JR, Nato Thompson, Joseph Remnant and Marc Azoulay was be published in 2019. There are 336 pages, the format is 9,8 x 8,4 inches (25 x 21,5 cm). ISBN : 9780714879444.
The most comprehensive monograph on the enigmatic French street artist - now updated to include brand-new work.
Filled with stunning photography, this extraordinary monograph charts JR's widereaching trajectory and a range of collaborative projects executed across the globe. Created in close collaboration with the artist, it features chapters on each of JR's major bodies of work - from 'Expo2Rue,' which launched his career as a street artist, to 'The Gun Chronicles: A Story of America' published in Time magazine in 2018. A specially commissioned graphic novel by comic artist Joseph Remnant and a survey essay by Nato Thompson tell JR's fascinating story.
Sell or purchase other artworks
Should you wish to sell artworks from your collection or to acquire other works by the artists, do not hesitate and call us : +33 (0)9 72 47 49 63 or email us : contact@soldart.com.
Out of stock
Additional Information
| | |
| --- | --- |
| Type of work | Book |
| Artists | JR |
| Number of pages | 336 |
| Format | 9,8 x 8,4 inches (25 x 21,5 cm) |
| Language | English |
| Year of edition | 2019 |
| Weight | around 3,7 lb (1,7kg) |
| Provenance of this artwork | Publishing house |
| ISBN | 9780714879444 |
The artist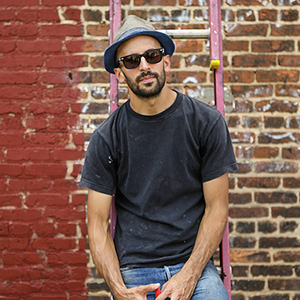 JR
JR was born in 1983 in Paris. In 2001, he started photography and decided to travel across Europe to meet the artists who expressed themselves in the street. Between 2004 and 2006, he produced his first series of collages, entitled "Portraits d'une génération", portraying the inhabitants of the Bosquets housing projects. At the time, riots broke out in the suburbs.
more about artist >