Description
From September 2015 to August 2016, Lek & Sowat were selected as fellows at the French Academy in Rome, France's oldest artistic residency. For a year, the two artists lived and worked at the Villa Medici, sharing a studio previously occupied by Jean-Auguste-Dominique Ingres. This set of 24 postcards presents a selection of photographs, paintings and installations created by the duo, both in Rome and throughout Italy, during this particular year.

Entitled "Eterno", this book has 24 postcards. It is signed and numbered on 100 copies by the artists. Published in 2017, the format is 5,7 x 4,1 inches (14,7 x 10,6 cm) folded and 5,7 x 107,4 inches (14,7 x 272,9 cm) unfolded. Texts are in English.
The price of this book is displayed without tax (VAT).
You aren't concerned by this tax if your billing address is in countries outside the European Union or Switzerland or your company is located in Europe (you have VAT number). Contact us if you have any question.
4 in stock
Additional Information
| | |
| --- | --- |
| Artists | Lek & Sowat |
| Type of work | Book |
| Edition of | 100 |
| Signed by the artist | Yes |
| Number of pages | 24 |
| Format | 5,7 x 4,1 inches (14,7 x 10,6 cm) |
| Language | English |
| Year of edition | 2017 |
| Provenance of this artwork | Artist |
The artist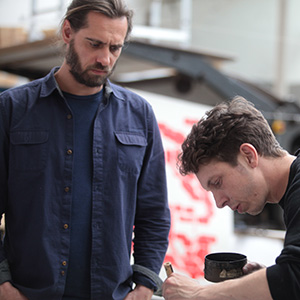 Lek & Sowat
The meeting of Lek & Sowat happened in 2010 at a collective exhibition organized by the Graffiti Art magazine at the Celal gallery. They shared a common taste for Urbex or Urban Exploration, the art of finding and creating things in abandoned places. Pushing the boundaries of traditional graffiti, their in situ experiments are a mix of video, architectural abstraction, installations and archeology, creating a modern form of urban land art.
more about artist >