La Rochelle Disparue (Vanishing La Rochelle)
Description
Entitled "La Rochelle Disparue" (Vanishing La Rochelle), this book has 24 postcards. It is signed and numbered on 100 copies by the artists. Published in 2018, the format is 5,7 x 4,1 inches (14,7 x 10,6 cm) folded and 5,7 x 107,4 inches (14,7 x 272,9 cm) unfolded. Texts are in French. Design by Formaboom.
As part of the On the walls, histories of graffiti season, launched in the spring of 2018 by France's National monuments center, Lek & Sowat were invited to live and work for a month in the city of La Rochelle. Thanks to the help of the National monuments center and its agents, as well as the support of the city's departments of culture and heritage, the artists chose to work both inside the Saint Nicolas tower and also outside, in key locations of La Rochelle. This series of 24 postcards presents a selection of these ephemeral installations in addition to works executed by other anonymous artists, traced, etched or signed throughout the last centuries and that Lek & Sowat discovered while discovering the city.

Book condition
New.
Tax (VAT 5,5%)
The price of this book is displayed without tax (VAT).
You aren't concerned by this tax if your billing address is in countries outside the European Union or Switzerland or your company is located in Europe (you have VAT number). Contact us if you have any question.
Shipment and delivery
The shipping cost depends on weight and number of books ordered.
The package is shipped by Colissimo (french post service), with insurance and tracking number included.
• International shipping
• Shipping insurance
• Tracking number.
Payment methods
• Credit card : Mastercard, Visa, American Express
• Paypal (free of charge)
• Bank transfer.
Sell or purchase other artworks
Should you wish to sell artworks from your collection or to acquire other artworks by the Artists, do not hesitate and call us : +33 (0)9 72 47 49 63 or email us : contact@soldart.com.
Additional Information
| | |
| --- | --- |
| Artists | Lek & Sowat |
| Type of work | Book |
| Edition of | 100 |
| Signed by the artist | Yes |
| Number of pages | 24 |
| Format | 5,7 x 4,1 inches (14,7 x 10,6 cm) |
| Language | French |
| Year of edition | 2018 |
| Provenance of this artwork | Artist |
The artist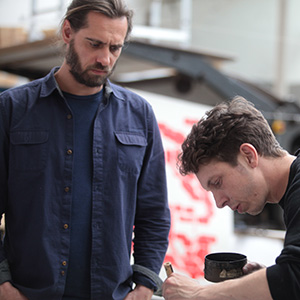 Lek & Sowat
The meeting of Lek & Sowat happened in 2010 at a collective exhibition organized by the Graffiti Art magazine at the Celal gallery. They shared a common taste for Urbex or Urban Exploration, the art of finding and creating things in abandoned places. Pushing the boundaries of traditional graffiti, their in situ experiments are a mix of video, architectural abstraction, installations and archeology, creating a modern form of urban land art.
more about artist >