Description
Entitled "Rubikcubist", this book by Invader was published in 2023. The format is 8,6 x 11,4 inches (22 x 29 cm). ISBN : 9782954125992. More information will be publish soon.



PLEASE READ CAREFULLY

:
Next to the problem encountered for the last books release with the distributor and the publisher, we decided not to pre-order.
We invite you to register below or via the link (click here) to be informed when we have received the books by hand.
As soon as we receive new copies, we will send an email with password to place the order to the Collectors who are registered and selected.
It's not necessary to contact us again.
Thank you for your understanding.
Sold Art team.
Additional Information
| | |
| --- | --- |
| Artists | Invader |
| Type of work | Book |
| Format | 8,6 x 11,4 inches (22 x 29 cm) |
| Language | English, French |
| Year of edition | 2023 |
| ISBN | 9782954125992 |
| Provenance of this artwork | Publishing house |
The artist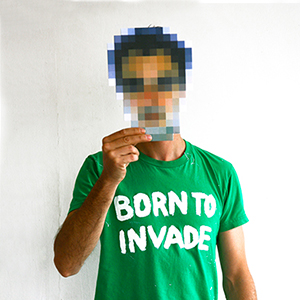 Invader
Invader was born in 1969 near Paris. He studied at the Fine Arts school in Rouen. In 1998, he started his "Invasion" with a project entitled "Space Invader", revisiting the universe of the famous video game of the 1970-80s. He has worked all around the world: Paris, London, Milan, Berlin, Tokyo, Hong Kong, Bangkok, Istanbul, Los Angeles, Sao Paulo, Barcelona, etc. He lists them on a map available on its website.
more about artist >