Protected: Invader – Prints on Paper – Catalogue raisonné 2001–2020
All informations will be updated here.
They will be communicated when we received them from publisher and distributor.
Update 17/05/2021 : at the moment, the publisher (Artist) refuse to delivery more copies while we still have preorders and long waiting list of Collectors wishing to acquire this book.
This situation is unacceptable for them and us whereas copies are available elsewhere.
We spend a lot of time and energy to manage this "false problem", only for a book.
Since 7 years, we never meet the same absurd situation.
We ask once again to the publisher to deliver more copies.
Update 27/04/2021 : we are in touch with Invader team, which manage the stock and the distribution of the book.
We regret that they limit the distribution to all the bookstore whereas they seems to have stock.
Above all, bookstores and galleries promote the work of Artists.
We hope that, they stop this limitation and allowed us to work in better condition.
Update 19/04/2021 : the distribution of this book is always "chaotic".
You are impact by this consequences like Collector and us like library, gallery and we should manage this situation as well as we can.
An email was send directly to the publisher (Artist and his team) to have more copies to satisfy each Collectors. We waiting his answer.
An email will be send to next 50 pre-orders for this second edition that we are sure to get.
Update 15/04/2021 : if you have a pre order, it's not necessary to send an email to know when your order will be ship. The distributor and us were surprise and not being informed by the day of the release of this second edition. Information will be publish here and you will receive an email when we ship your order or have other update.
Update 09/04/2021 : next to the technical problems with met in march, we sent an email to each Collectors who made a pre order. If you received anything, we invite you to check your spam box or to contact us by email.
About the second edition, we waiting information from the distributor between mid-april to the end of april. It's not necessary to contact us and ask when you will receive it. We will send you informations by email and share update here.


• The cover of this book could be different. It come with jacket.
• We take care to protect the book and the packaging.
• We ship by French post with insurance and tracking number around the world.

Photo credit : soldart.com

Description
Entitled "Invader - Prints on Paper - Catalogue raisonné 2001–2020", this book by Invader talk about several editions made by the Artist.
The price of this book is displayed without tax (VAT).
You aren't concerned by this tax if your billing address is in countries outside the European Union or Switzerland or your company is located in Europe (you have VAT number). Contact us if you have any question.
Payment methods
• Credit card : Mastercard, Visa, American Express
• Paypal (free of charge)
• Bank transfer.
Shipment and delivery
The shipping cost depends on weight and number of books have been purchased.
• International shipping
• Shipping insurance
• Tracking number.
Sell or purchase other artworks
Should you wish to sell artworks from your collection or to acquire other works by the artist, do not hesitate and call us : +33 (0)9 72 47 49 63 or email us : contact@soldart.com.
Out of stock
Additional Information
| | |
| --- | --- |
| Artists | Invader |
| Type of work | Book |
| Year of edition | 2021 |
The artist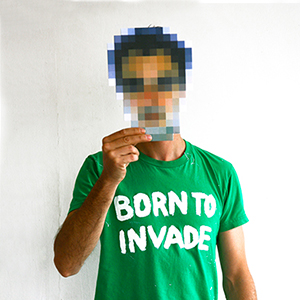 Invader
Invader was born in 1969 near Paris. He studied at the Fine Arts school in Rouen. In 1998, he started his "Invasion" with a project entitled "Space Invader", revisiting the universe of the famous video game of the 1970-80s. He has worked all around the world: Paris, London, Milan, Berlin, Tokyo, Hong Kong, Bangkok, Istanbul, Los Angeles, Sao Paulo, Barcelona, etc. He lists them on a map available on its website.
more about artist >