Description
Entitled "Street Food", this 1 color stone lithography by Zoer & Velvet is enhanced by the artists. After printing, they draw over each copies, creating unique works of art. Made in 2015, it's an edition of 15. It is signed and numbered by the artists. Format : 31,5 x 47,2 inches (80 x 120 cm). Printed on Velin BFK Rives 300g/m² (100% cotton), paper with fringed edges. The artwork comes with a certificate of authenticity.
Consult here the catalog of available lithographs.
Please indicate the issue number when ordering.
Artwork condition
New.
Tax (VAT 20%)
The price of this artwork is displayed without tax (VAT).
You aren't concerned by this tax if your billing address is in countries outside the European Union or Switzerland or your company is located in Europe (you have VAT number). Contact us if you have any question.
Payment methods
• Payment in 2 to 5 installments by bank transfer or Paypal (free of charge)
• Credit card : Mastercard, Visa, American Express
• Paypal (free of charge)
• Bank transfer.
Shipment and delivery
• International shipping
• Shipping insurance
• Tracking number.
Sell or purchase other artworks
Should you wish to sell artworks from your collection or to acquire other works by the Artists, do not hesitate and call us : +33 (0)9 72 47 49 63 or email us : contact@soldart.com.
Additional Information
| | |
| --- | --- |
| Artists | Zoer & Velvet |
| Type of work | Enhanced original lithograph |
| Edition of | 15 |
| Format | 47,2 x 31,5 inches (120 x 80 cm) |
| Signed by the artist | Yes |
| Paper type | Velin BFK Rives 300 g/m² (100% cotton), paper with fringed edges |
| Year of edition | 2015 |
| Certificate of authenticity made by the artist | Yes |
| Provenance of this artwork | Sold Art edition |
The third edition by online art gallery Sold Art is a original lithography handmade enhanced painting by Zoer & Velvet. Following the exhibition L'Etat Limite in Tokyo, curated by Takashi Murakami, Zoer and Velvet spent five days in the URDLA workshop in Villeurbanne (France) to create this lithograph on stone entitled Street Food.
The artist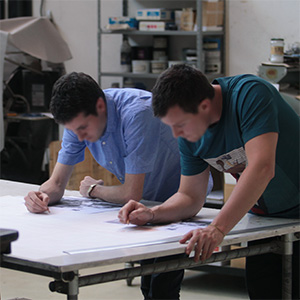 Zoer & Velvet
Their paintings are based on the combination of their photographic memories, from where they draw their inspirations for the scenes, objects and letters they represent. Their compositions evolve as they travel and meet new people. The two artists met while studying industrial design. Their passion for graffiti led them to create in 2004 the CSX crew (CSX stands for the French equivalent of "Unemployed Without any eXperience").
more about artist >